The Tim McGovern Fellowship Fund
This Fund has been set up to preserve the memory of our beloved colleague and friend Tim McGovern.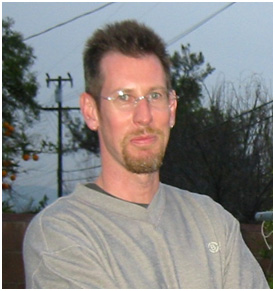 Tim McGovern was a talented and eclectic researcher. His books Dickens in Galdós (2000), Using Portuguese (2003), and Galdós Beyond Realism (2004) were important contributions to the fields of 19th Century Spanish Literature and Portuguese and Applied Linguistics.  He was considered one of the freshest voices in Galician Studies and contributed to advance research in Mexican and Catalan literatures, and Gender and Queer Studies.  He was also an integral part of UC Mexicanistas, the Peninsularistas, and had, as one of his core values, excellence in teaching.
To honor his memory we aim to establish The Tim McGovern Fellowship Fund to support graduate students' research projects in all the above mentioned areas and reward excellence in teaching.
To date $8,310 has been raised. Our goal is to reach a minimum of $20,000 before June 30, 2013. Once the fund reaches $20,000 we will be able to establish a permanent endowment and the memory of Professor McGovern will continue to inspire students for generations to come. Even those students who did not have the experience of having him as teacher and mentor will still benefit from his amazing versatility and dedication to research in many diverse fields.
Your donation is tax-deductible. Please help us reach our goal and cherish Tim's memory forever.
If you would like to contribute to the fund, please make out a check to the UC Regents and, in the "memo" section at the bottom of the check, write: "Tim McGovern Memorial Fund." Or, you may click here to make a gift on-line. Kindly indicate in the comments section that your gift supports the Tim McGovern Fund.
Checks can be sent to:
Leslie Gray, Senior Director of Development, Humanities and Fine Arts
University of California
Santa Barbara, CA 93106-2013.
Tristin Sherman, Associate Director of Development, Humanities and Fine Arts
(805) 893-3136
tristinsherman@ucsb.edu
Thank you for your consideration,
Professor Silvia Bermúdez
Department of Spanish and Portuguese