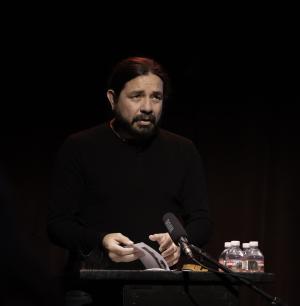 Specialization
:
Border and Migration Studies in the Americas
Education
:
MFA Visual Arts, 2010 & Ph.D. Literature, 2019 - University of California San Diego.  
Bio
:
Omar Pimienta (Jorge Omar Ramírez Pimienta) is an Assistant Professor in the Department of Spanish and Portuguese at UCSB, where he teaches Transborder Cultural Production and Creative Writing. His current scholarship centers on the Transcalifornian creative production as examples of how cultural citizenship could be exercised from a state of transborder existence and the marginality that this mobile spatial ontology entails. He has published four books of poetry: El Álbum de las Rejas (Ediciones Liliputienses. Cáceres, España, 2016, translated and reedited as Album of fences, Cardboard House Press. Phoenix, Arizona U.S. 2018); Escribo desde aquí (Pre-Textos. Málaga, Spain, 2010, reedited by Qeja, Buenos Aires, Argentina. 2020); La Libertad: Ciudad de paso (CECUT, México. 2006, reedited by Aullido libros, Huelva, Spain. 2008) Primera Persona: Ella (Anortecer, México. 2004, reedited by Littera libros, Cáceres, España. 2009); and a compilation of short stories Té. (RIL Editores Barcelona-Santiago, España-Chile. 2019).  His work as a visual artist was awarded an Art Matters Grant in 2017,  it has been shown at the MDE11 Encuentro Internacional de Arte de Medellín 2011; the 3ème Biennale Internationale de l'Art Contemporain de Casablanca Maroc; the Getty Foundation, Pacific Standard Time LA/LA, 2017-18; the 5th Transborder Biennial in El Paso/Ciudad Juarez; and the 2023 Mexicali Biennial. From 2019 to 2022 he was a Member of the Mexican Sistema Nacional de Creadores de Arte in the Area of Poetry, and in 2022 a Poetry tutor for that year's cohort of young fellows of the National Fund for Culture and the Arts (FONCA).